Welcome! I have been
patiently
waiting for today to get here to kick off the Mood Board Link Party as a way for bloggers with interest in interior design to show off their talent!
I am continually in search of mood bards from other bloggers as inspiration as well as an opportunity to network and learn from each of them so why not bring as many designers as possible to one place?!
To kick it off, I thought I would share my design board for the week! I have a few friends who are having babies in the near future and the exciting part is that they haven't found out if they are having a boy or girl. That inspired me to design a nursery that a boy or girl would be comfortable in! Each of the numbers below correspond to the item on the board, click on the number to get to the item source!
1 // 2 // 3 // 4 // 5 // 6 // 7 // 8 // 9 // 10 // 11 // 12 // 13 // 14
I only have three requests for participation:
1. Follow Design Your Dwelling via GFC
I would love to stay connected with you! This will also keep you up-to-date for the next link party!
2. Grab A Button!
Grab a button below and include it in your blog post or where you share your link parties on your blog.
3. Share it!
Help spread the word about this link party by tweeting about it with hashtag #moodboardlinkparty! If you tweet me, I'll be sure to re-tweet! I also be stopping over to see each of your boards and adding them to my
Design Boards
board on
Pinterest!
Most importantly, connect with and follow other bloggers!
Grab a button, link up, and have fun! :)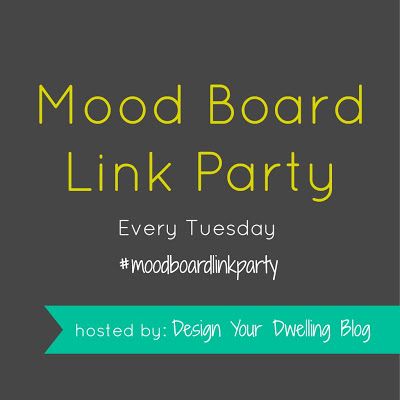 I have to give a HUGE thank you to my friend Kristine from
Heart Shaped Sweat
for creating my link party button . She is awesome - please stop by to check out her blog.